By Melissa Conyears-Ervin
Originally printed in the Chicago Sun-Times, October 9, 2023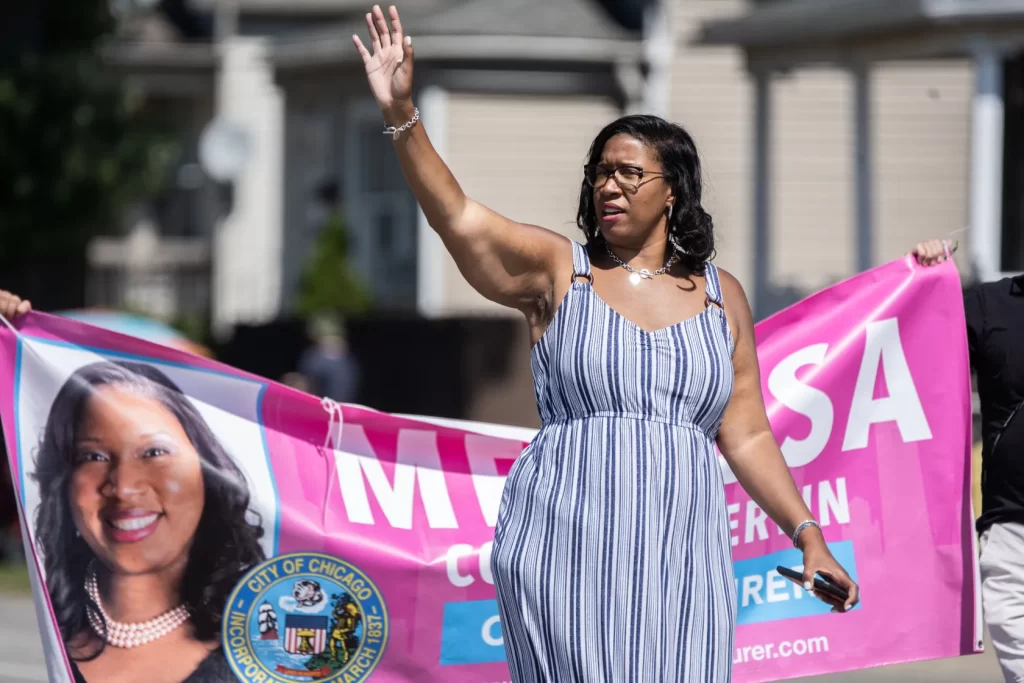 While many correlate domestic violence to physical abuse, it also includes mental coercion. Over the last decade, our society has gained greater insight and understanding of the full scope of domestic abuse, leading to new programs and outreach centers that aid survivors in getting help and coming forward safely.
This month is also a time to honor and mourn the victims of domestic violence. Thousands of children and adults are abused daily, in secret or in plain sight, and cannot get help. These people may feel scared or stressed. They may feel anxious or embarrassed. I know because I am a domestic violence survivor. And, for the first time, I want to share my story with you.
In December 1997, as a 22-year-old college student at Eastern Illinois University, I arrived at the house of my boyfriend at the time and found him with another woman. I was flooded with shock and sadness from what I had just seen. After going outside to collect my thoughts and get my friends, I went back into the house to talk through the situation.
While we both had our fair exchange of words, his anger grew rapidly. He grabbed a knife, barreled toward me and started to choke me. After I tried to free myself and leave the house, he followed me outside, grabbed me yet again and continued to attack me.
Eventually, one of his neighbors stormed outside to separate us and brought me into their house while we called the police.
To make matters worse, the police told me if he was arrested, they would arrest me, too. My boyfriend was a star athlete, and an incident like this wasn't what anyone wanted to see make the news.
I felt terrified and absolutely horrible, like it was my fault and that I was nothing. I wanted to quit school even though my finals were the following week.
Thank God my mother was my rock. She came down to school and stayed with me to make sure I finished my finals and graduated.
Living in Fear
Two days later, my mother and I filed a petition for an emergency order of protection in Coles County Circuit Court, which was granted and remained in effect until early January 1998. I ultimately decided not to proceed with a plenary order. I believed, as so many women do, that the system would protect him and not me. Since then, I've never stopped looking over my shoulder or fearing he would follow through on his threats.
I was elected treasurer of the city of Chicago after serving in the Illinois General Assembly as a state representative. I'm a proud mother and wife. I am blessed with a strong family and community.
I have been in the public eye and managed to keep this a secret for the last 26 years. Imagine how many others have or are currently doing the same.
Shame is a powerful force that serves to keep so many survivors of domestic abuse in the shadows. It is scary to put that shame to the side and decide to come forward and tell my story – but in doing so, I hope I can help create space for others to do the same.
It's my hope that sharing my experience can help my own abuser from hurting someone else. But I also am hopeful that sharing my own story can inspire someone else to seek help. If hearing my story can help liberate even one other survivor, it will be beyond worth it.
At 22, I was also fortunate enough to have a support group of friends along with my amazing mother, who drove down to school in the middle of the night to comfort and help me finish my final exams.
For those of you who know someone who has experienced domestic violence, make sure to act as a prominent figure in their support group. As a survivor, I can confidently say I wouldn't be where I am today without them by my side.
Thank you for allowing me to share my story and let those affected by domestic violence know they are not alone.
If you or someone you know has experienced domestic violence, please call 911 or the National Domestic Violence Hotline at 800-799-7233.
Melissa Conyears-Ervin has been city treasurer since 2019. She was reelected this year.